The rain is back! I love rains and the earthly scents however, when the weather gets chilly, my skin gets dry and flaky as well. Have you experienced this before? How do you deal with it? If you have dry to normal skin, you might want to scroll down this entry as I spill my recent skin-moisturizing secret.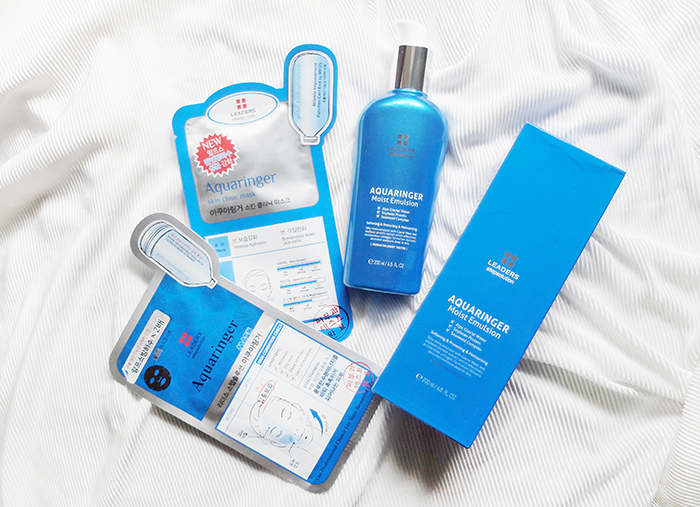 True that during this time, your skin moisturizer should thicker and boost skin hydration. That's why, I chose Leaders Insolution Aquaringer. I got here a couple of Aquaringer products from Leaders Insolution – Aquaringer Moist Emulsion, Aquaringer Skin Clinic Mask and Stepsolution Aquaringer Mask.
I use Aquaringer Moist Emulsion for a deep moisturizing effect. This is highly recommended for dry and sensitive skin. Best choice for those who have dehydrated skin that eventually leads to excess oil production.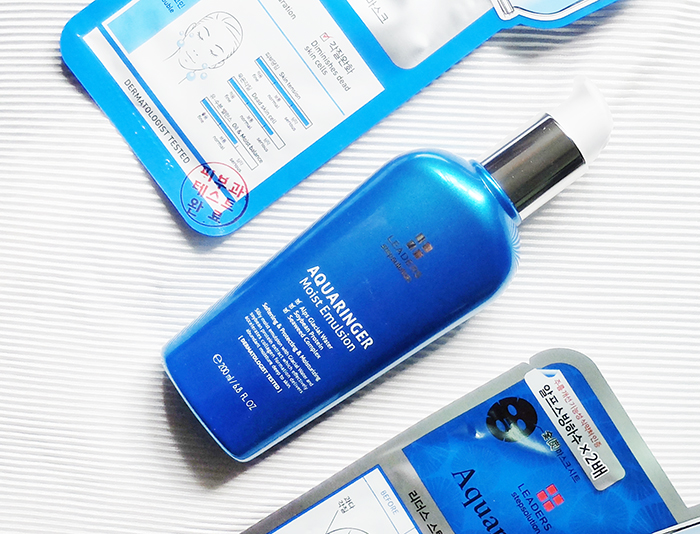 Php 1,178.00
Description:
– High water content emulsion that keeps skin moist and fresh
– Restores oil-moisture balance and improves elasticity
– It contains glacier milk and hyaluronic acid which create a synergy.
– Marine collagen and phyto-calming extracts keep skin elastic and comfortable
– Does not contain: paraben, ethanol, artificial pigment, alcohol, mineral oil, animal oil and benzophenone.
– Non-irritating and comfortable to use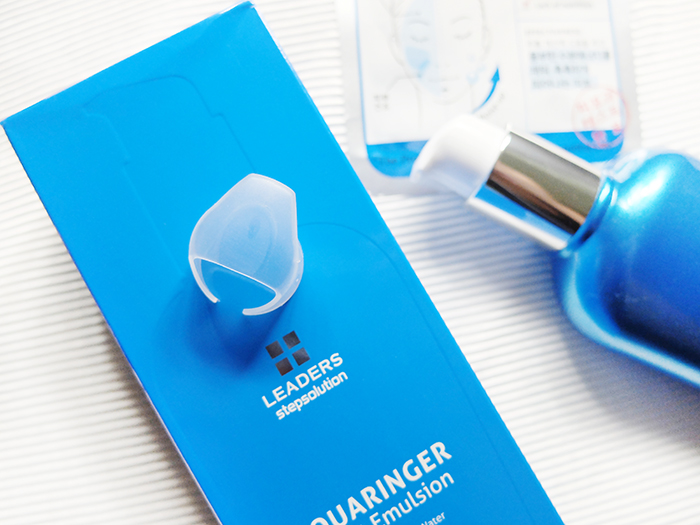 The packaging is very simple and easy to recognize. My sister thought that this one is a shampoo product though! XD Actually, I like how the Leaders products looks so laboratorish in general. They all look like very serious products which my skin can benefit from. The bottle has a smooth plastic finish and has a protective cap to protect the product from accidental pumps.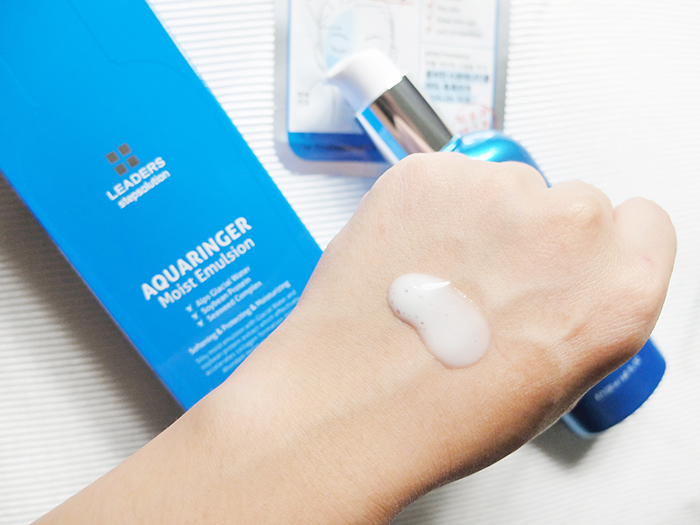 The product is very light on skin. Its consistency is almost watery but I like it because it doesn't feel heavy/greasy yet I don't feel like I applied nothing on my skin. So in all, it's great in the consistency department.
This hydrating and firming skin care line deeply moisturizes and firms the skin. A little amount goes a long way. My demands of softer and smoother skin were all well met with this emulsion after every use! I am so happy to the point that I eventually used it all over my body!
For a quick moisture boost, I use this Aquaringer Skin Clinic Mask. This mask works great for those who are experiencing serious skin tension/stress, dead skin cells and oil imbalance.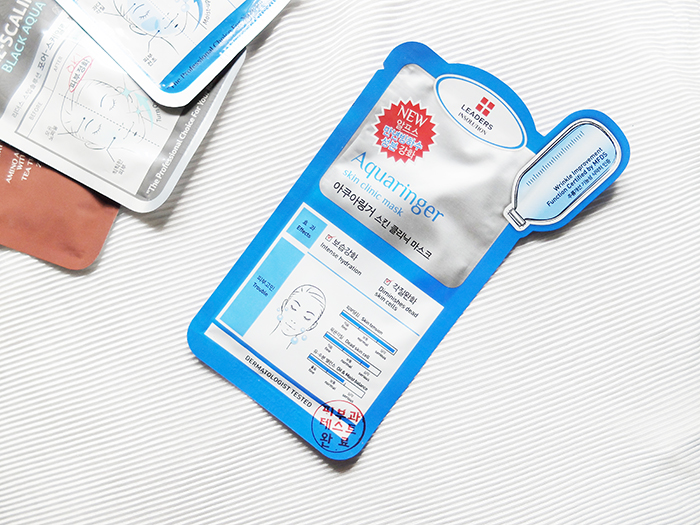 Php 148.oo
This affordable mask gives skin the much needed hydration while ironing out fine lines and wrinkles with its Alpine Glacier water and Amino Acid Complex that instantly restores skin for intense long-lasting hydration, boosting elasticity, leaving skin soothed, radiant and exceptionally soft. Also, the NMF or Natural Moisturizing Factor takes away those nasty dead skin cells.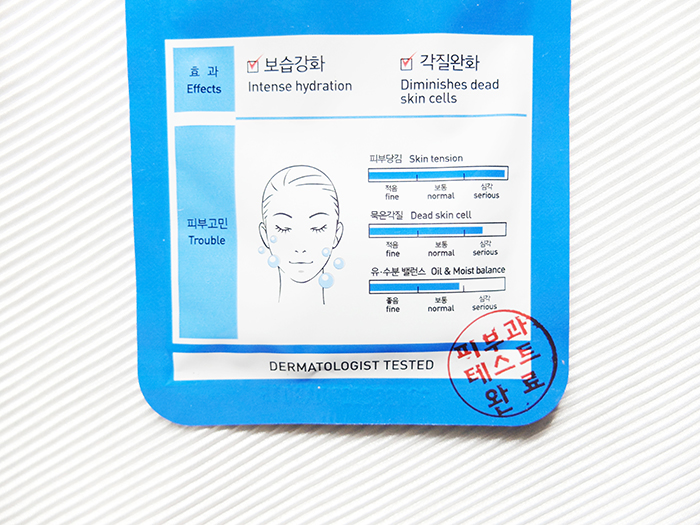 Basically, you just need to fit the sheet over your clean face and smooth it out. Leave it on for 15 to 20 minutes, remove and pat the essence onto the skin for maximum absorption. For me, I leave the mask on my skin overnight to make sure that all essence are absorbed on skin.
And lastly, my favorite, Stepsolution Aquaringer Mask.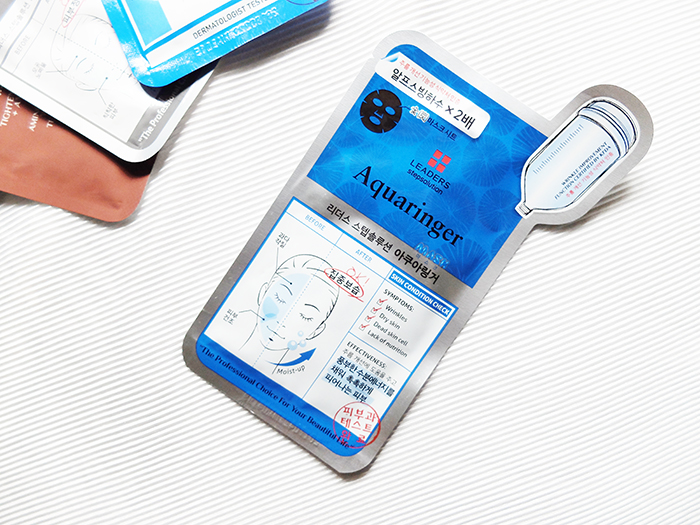 Php 178.00
Description:
– An intensive moisturizing mask that recharges moisture to dry skin and keeps it hydrated all day.
– Clean Alps water supplies moisture, which is energy to the skin.
– Recovers oil-moisture balance.
– Natural moisturizing factors keep the skin healthy by removing dead skin cells.
*Paraben free and Dermatologist tested.
It's a black mask! Don't worry, it won't stain your skin. This mask addresses skin problems such as wrinkles, dry skin, dead skin cell and lack of nutrition. I notice that every after use, my skin is smoother and looks healthier. It's not greasy as well but there a point that it would feel uncomfortable already and you'd need to wash it off. But overall, I really love this Aquaringer  I definitely recommend this for daily use.
How about you? What's your favorite facial mask?
You might also like