In celebration of the best in Philippine contemporary art, Art Fair Philippines presents 10 Days of Art from February 9 to 19. We've already seen public artworks such as Pete Jimenez's Sampaguita and Bumper-to-Bumper art pieces at Legazpi Patio, Dirty Kids South's mural at Ayala Center underpass, Derek Tumala's light installations at Ayala bridge connecting Greenbelt and Landmark, Zenas Pineda' re-purposed Christmas decors, Xyza Bacani's Humans of Makati photographs and Charlie Co's Bombarded installation art at Greenbelt 5 Fashion Walk.
Makati City, with its history and present-day innovation, has built itself to become a living piece of art—from the architecture, the graffiti, the fashion of its dwellers, to the interior housed inside the structures. In the midst of the city are sculptures of Filipino artists depicting some of the country's timeless cultural heroes, particularly the Ninoy Aquino and Gabriela Silang Monuments along the stretch of Ayala Ave., and the Pio del Pilar and Sultan Kudarat statues situated at the intersection of Makati Ave. and Paseo de Roxas. Makati is also home to other structures developed in collaboration with artists. These picturesque artworks include "Life Is Good Being Together" by Ronaldo Castrillo at Circuit Makati as well as the Greenbelt Chapel's Cross which was fabricated by Ramon Orlina.
Yesterday, we have witnessed the first full-length Asian premier of Street by James Nares.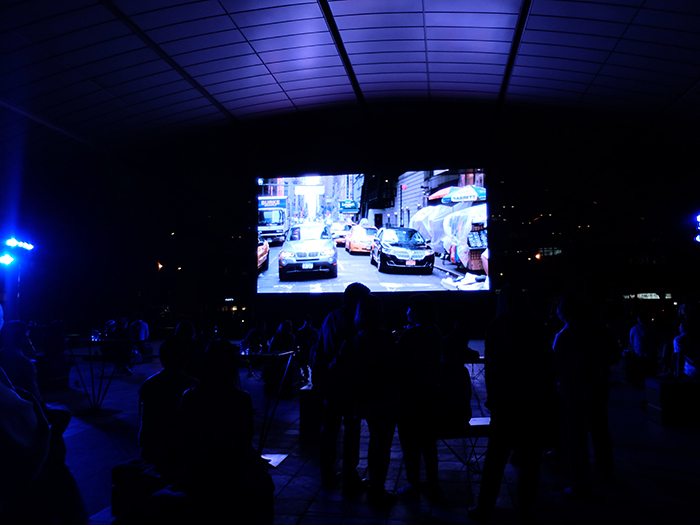 HD video, 61 minutes
Music by Thurston Moore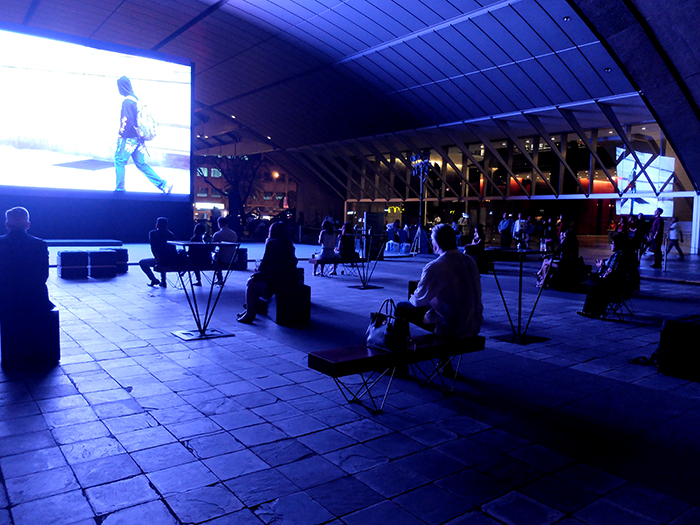 James Nares watching his own premier
Highlighting the list of events in Makati will be James Nares' STREET, a 61-minute slow motion capture of New York City.  In the midst of the hustle and bustle of Makati, people will be able to witness another metropolitan in the middle of activity, timed in an exponentially gradual pace.  Accompanying the video is a score by Thurston Moore, co-founder of Sonic Youth.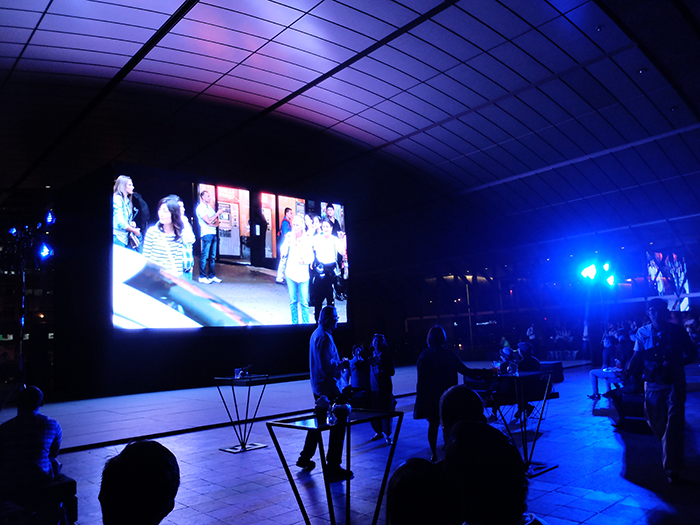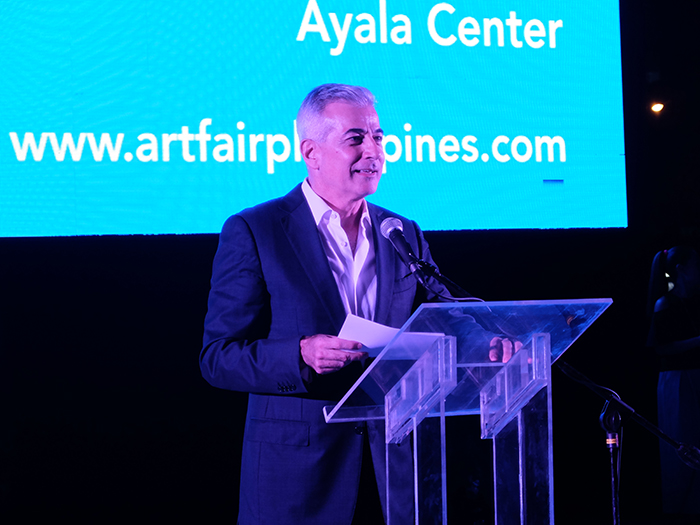 Fernando Zobel de Ayala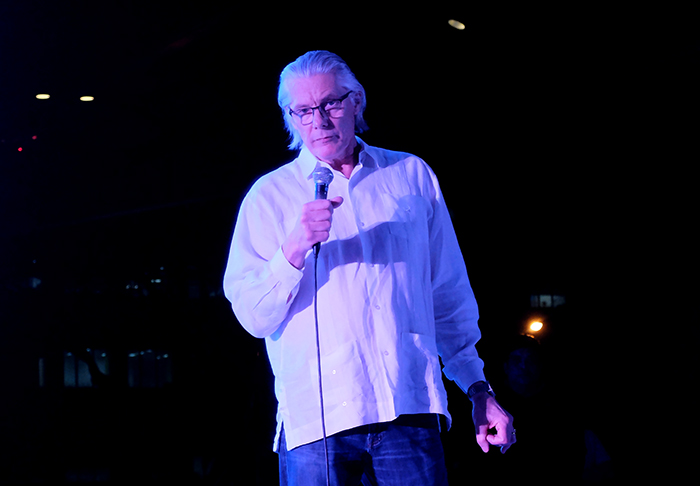 The world class film has been shown at New York's Metropolitan Museum of Art, the Wadsworth Museum of Art in Connecticut and Saint Louis Art Museum, and featured in well-known publications such as the New York Times and The New Yorker. And this month, James Nares' world-class masterpiece will play at a specially installed video screen in Ayala Triangle Gardens.
Catch the HD video from 12:00pm – 2:00pm & 5:00pm – 9:00pm until February 19 at Ayala Triangle.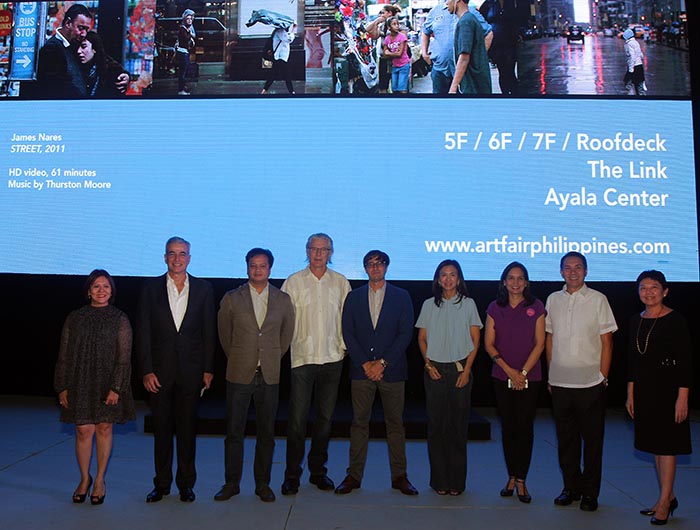 L-R: Cristina Ong Cruz, Director of sales & marketing of Makati Shangri-la Manila; Fernando Zobel de Ayala, Chairman of Ayala Land; Marcel Crespo, James Nares, Nick Olney of Paul Kasmin Gallery; Trickie Lopa, Chairman of Philippine Art events; Lisa Periquet, President of Philippine art events; Bobby Dy, President and CEo of Ayala Land; Yla Alcantara, Corporate communications head of Ayala Corporation
For more information, please visit http://artfairphilippines.com/en/10-days-of-art/.
Truly, Makati has developed a charm that incorporates the wisdom of an established man; the creativity of an artist; and energy and youthfulness of a child. Simultaneously with Makati's business' aspect is a bustling art scene with activities happening throughout the year.
The city hosts a number of diverse cultural activities that take place in locations such as Ayala Museum, Yuchengco Museum, The RCBC Theater, OnStage in Greenblet 1, White Space, and Circuit Makati, hosting a variety of exhibits, plays, and other events.
True to epitomizing art, this February, Makati will, once again, be the stage of Art Fair Philippines happening this February 16–19 at the Link Carpark, Ayala Center.
Now on its 5th year, the fair has gained quite a following crossing generations of art lovers and explorers. Instagram has now become an extension of the art fair due to the posts of its enthusiastic millennial following.
This year's edition will include 34 local participating galleries, and 12 international galleries. These include: 1335 Mabini, Altro Mondo Arté Contemporanea, Archivo 1984, ARNDT, Art Cube Gallery, Artinformal, ART LAB, Art Underground, Art Verite', Artesan Gallery + Studio, Avellana Art Gallery, Blanc, Boston Art Gallery, CANVAS, Edouard Malingue Gallery, Finale Art File, Gajah Gallery, Galería Cayón, Galerie Anna, Galerie Michael Janssen, Galerie Stephanie, Galleria Duemila, Gallery Kogure, Gallery Orange, J Studio, Kaida Contemporary, Asian Cultural Council/Leon Gallery, MO_Space, Nunu Fine Art, Paseo Art Gallery, Pinto Art Gallery, ROH Projects, Salcedo Private View, Secret Fresh, Silverlens, TAKSU, The Crucible Gallery, The Drawing Room, Tin-aw Gallery, Underground Gallery, Vinyl on Vinyl, West Gallery, XuArtspace, Yavuz Gallery, Ysobel Gallery, and YOD Gallery.
Complementing the art fair will be an even bigger art homage, 10 Days of Art (Feb 9-19). The event will incorporate activities outside of The Link including a first ever Silent Disco in the city, a Street Market, Urban Art Installations, Busker Performances within Makati (Feb. 13–19, 12nn and 6pm), and Special Art Fair menu by top Makati establishments including East Café, Museum Café, Chili's, California Pizza Kitchen, Pappy Bistro, Pablo, Cartel Deli, The Belle and Dragon, 20:20, Finders Keepers, Black Market, XX:XX, Bar Mathilde, Bucky's, Pura Vida, CU CHI, House of Joe, Tambai, The Wild Poppy and Z Hostel. Use your Mastercard (debit, credit, prepaid) to avail of the special dish or drink in these establishments and get a limited edition Art Fair Philippines 2017 refrigerator magnet.
All sorts of art can be experienced in the Silent Disco, a creative music and headphone gathering set in Makati's urban oasis – the Ayala Triangle Gardens. On the 18th of February, 9 DJs will compete for a chance to battle it out against 9 local DJs and 9 foreign DJs from Japan, Sweden and Hong Kong during the Silent Disco at the famed Malasimbo Music Festival.  The Silent Disco is an event developed by VUE, the brains behind the said festival.
Alongside the Silent Disco, guests will also be treated to a curated set of gustatory treats from the local scene in the Makati Street Meet in partnership with Salcedo Market (at Ayala Triangle), taking place from 4 to 10pm and performances from local Makati street acts.
For more info about the best in Philippine Contemporary Art, please visit www.artfairphilippines.com
You might also like