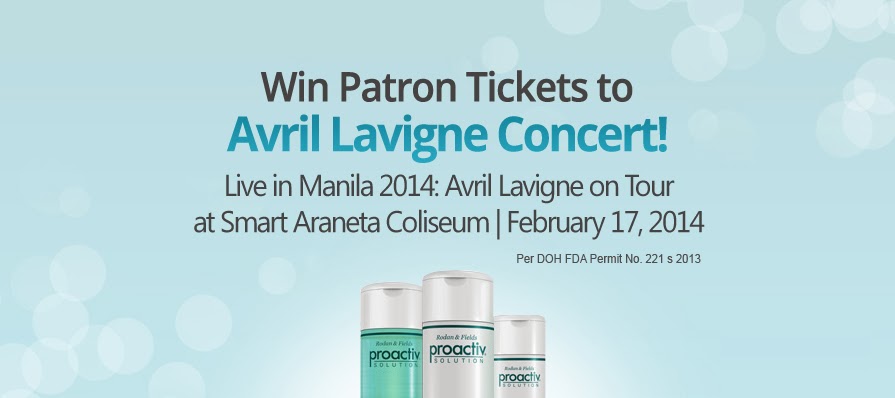 Who wants to see Avril Lavigne at Smart Araneta Coliseum this February 17? Proactiv is giving you an opportunity! Read below to know how:
Buy a Proactiv Solution 30-day kit (Php 2,495) or 60-day (Php 3,995) kit from any of the participating outlets within promo period. You'll get 1 raffle entry when you purchase a 30-day kit while you'll automatically get 2 raffle entries when you buy the 60-day kit.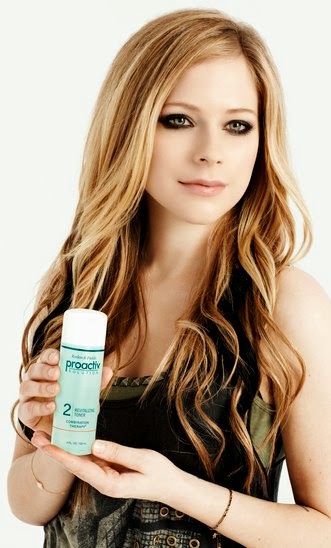 If buying from Proactiv Mall Kiosks (2F, Trinoma, GF, Glorietta 2, GF, Marquee Mall), you must fill-out the Official Raffle Entry Form and must be submitted to the Sales Officer in-charge to qualify for the raffle.
For customers ordering from
my.proactiv.com.ph
, there is no special instruction or forms to be filled out. The system automatically tags eligible customers and the Account Name will be used as an official entry. Click here to view the promo: http://my.proactiv.com.ph/win-patron-tickets-
avril-lavigne-concert.htm#.UrJKN9IW1EI
For customers ordering via phone hotlines, our Customer Service Representatives shall automatically tag all eligible customers and your Account Name in our database will be used as official entry.
PRIZES TO BE WON
One (1) Winner of 2 Patron Tickets worth Php 5, 885 each
One (1) Winner of 2 Lower Box B Tickets worth Php4,825each
Three (3) Winners of 2 Upper Box B Tickets worth Php1,645 each
The prizes are directly purchased from Ticketnet, official ticketing agent of the event. Proactiv Solution is not a sponsor of the said event and is not endorsing the event. Concert organizers are not connected to Proactiv Solution.
Raffle Date: February 6, 2014
(Winners will be contacted directly with instructions on how to claim the prize)
Terms and Conditions
1. The Prize is not convertible to cash and or to other Proactiv products.
2. The Prize must be claimed by the winner/s, in full compliance of the terms and conditions of redemption procedure: Winners within Metro Manila must personally claim the prize and must bring a valid ID together with the Official Receipt. Winner must agree to have picture taken, must sign Acknowledgment Receipt and Waiver. Top American Products Solutions Inc., reserves the right to use winner's information for all marketing purposes to promote Proactiv.
Winners outside Metro Manila can claim the prize personally or request for the prizes to be mailed subject to compliance to the following conditions:
a. Customer must provide a valid email address. Top American Products Solution Inc will provide documents which must be signed and emailed back: (1) Acknowledgement Receipt, (2) Waiver of Rights for marketing promotion.
b. Customer must attach to this email a scanned copy of any Government issued ID, plus a close-up photo to be used for future Proactiv Solution marketing materials.
c. Customer must provide mailing address. Top American Products Solutions Inc. will shoulder the mailing expense for the prize. Any return to sender event will forfeit the prize.
3. Should a winner decide to refund the Proactiv kit through Proactiv's Money Back Guarantee policy:
BEFORE RAFFLE Proper: The raffle entry will be deactivated and the purchase will not be eligible to join the raffle on February 6, 2014 (Thursday) AFTER RAFFLE proper and Claiming of Prizes: The amount of the refund will be deducted by the amount equal to the market value of tickets won and claimed.
Promo period is from December 5, 2013 to February 4, 2014. Per DOH FDA Permit No. 221 series of 2013.
You might also like