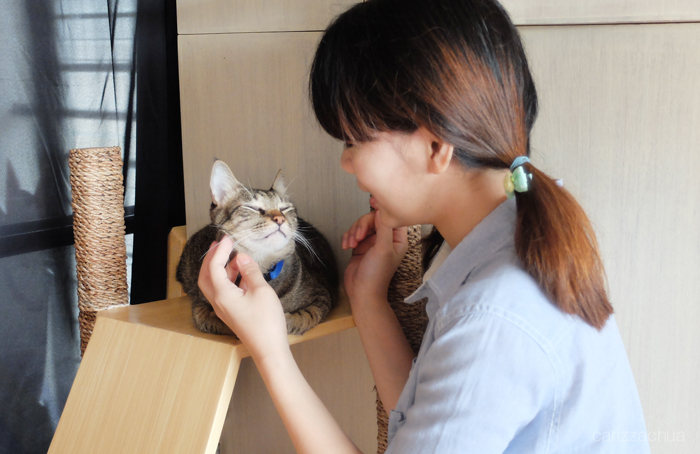 Bicco
I've been to this cat cafe twice already but I never got the chance to blog about it before and since I already miss these furbabies, I'll keeping a blog entry about them today.
Cat Cafe Manila
is filled with around 10 adorable Puspin cats from
CARA (Compassion and Responsibility for Animals)
and all are up for adoption! That's the reason why I support this cafe. It's not just all about giving affectionate purr but also a chance for the Puspins to find their forever homes.
If it's your first time in a cat cafe, it would be best to read the house rules first.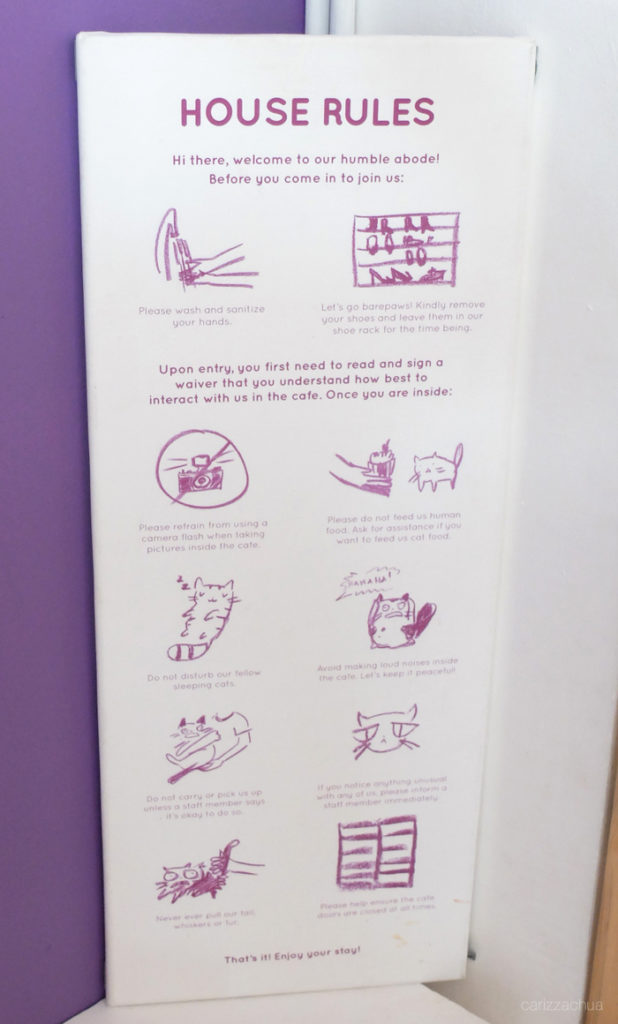 This cafe sells cat-related items as well as yummy food and drinks for hoomans. Entrance fee is Php 200 wherein half of which is consumable.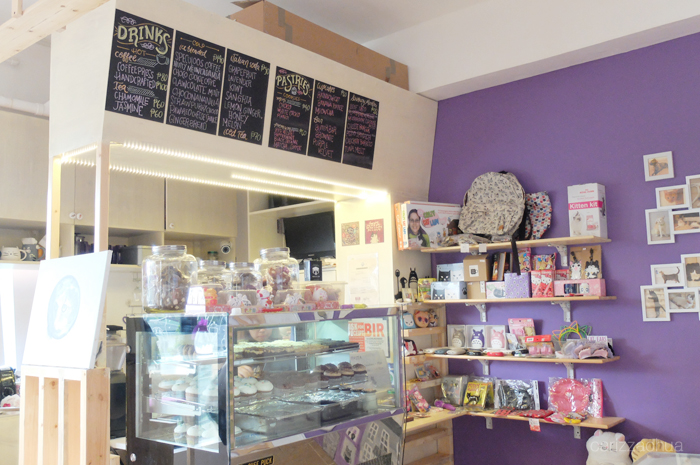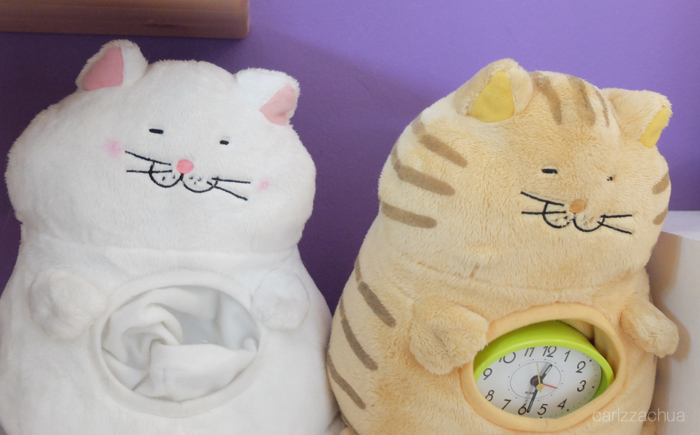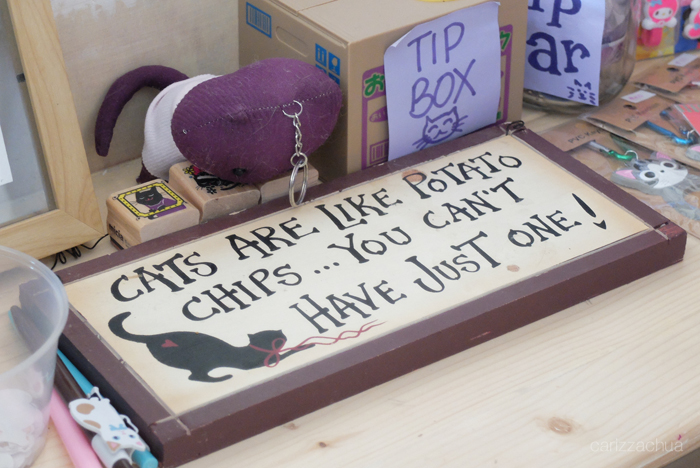 I like their wall artworks too!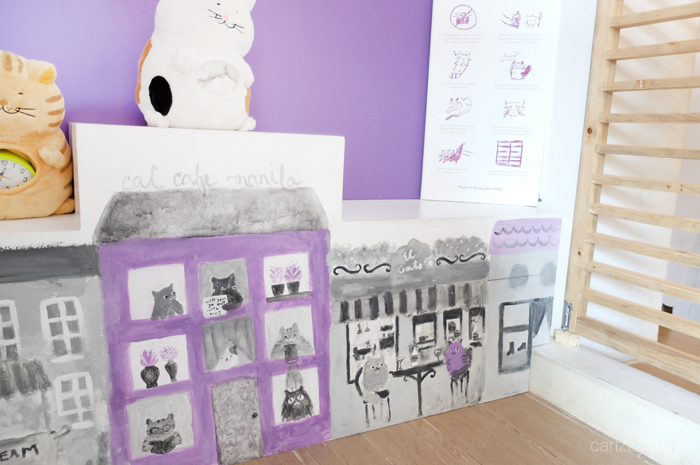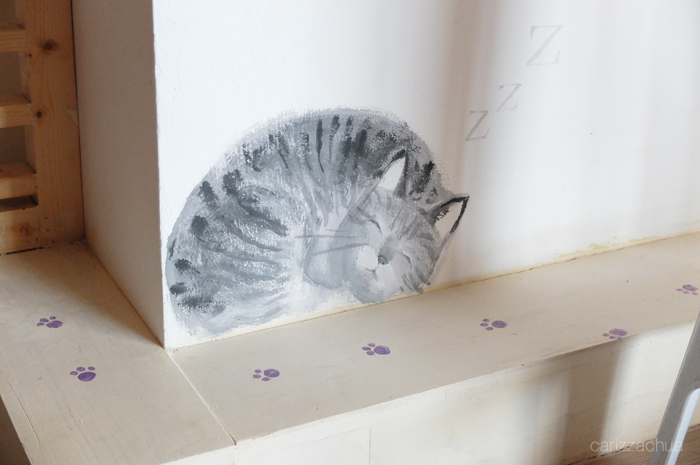 The place can accommodate up to 15 people at a time and each visitor could only stay for an hour. This rule is enforced to avoid overcrowding and preserve the harmony in the place. In other Asian countries, they could allow you to stay in their cafe the whole day but it won't work here in the Philippines as most people would abuse it for sure.
Their wall is also decorated with wooden panels where cats can climb or curl themselves inside the cat houses.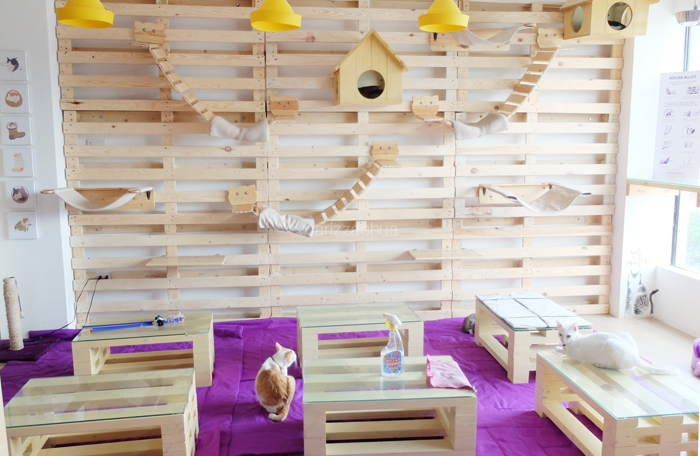 Meet the newest member of Cat Cafe Manila – Peggy! If you would look at her closely, you'd notice that she's actually a three-legged cat!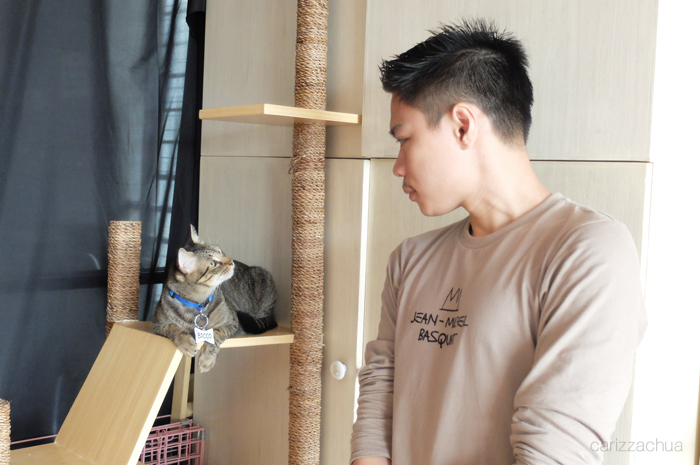 Here's one of the most active cat, Bicco. He likes attention and we love him so much!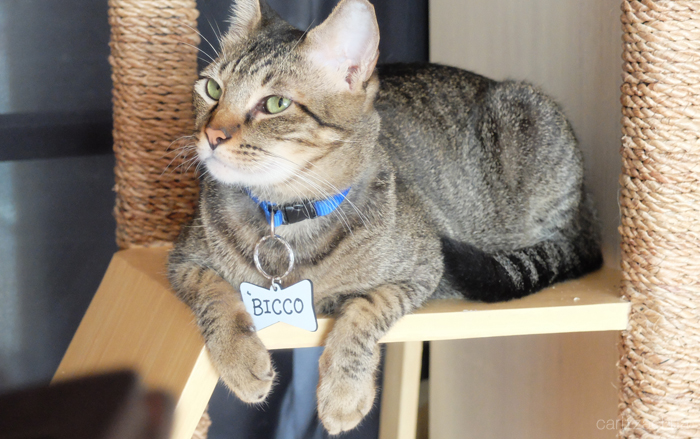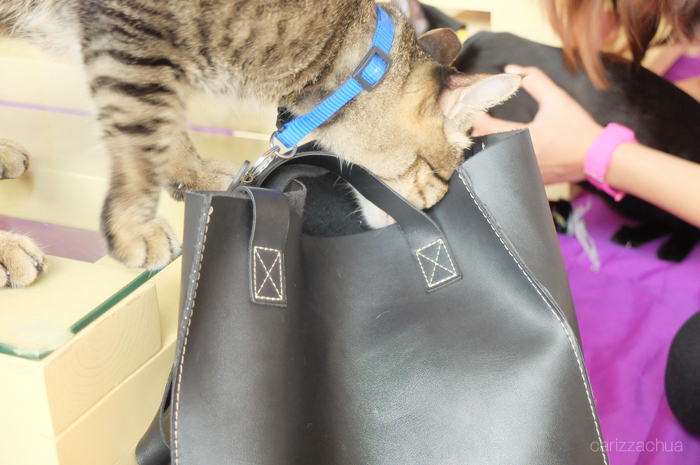 I think Bicco wants to go home with me…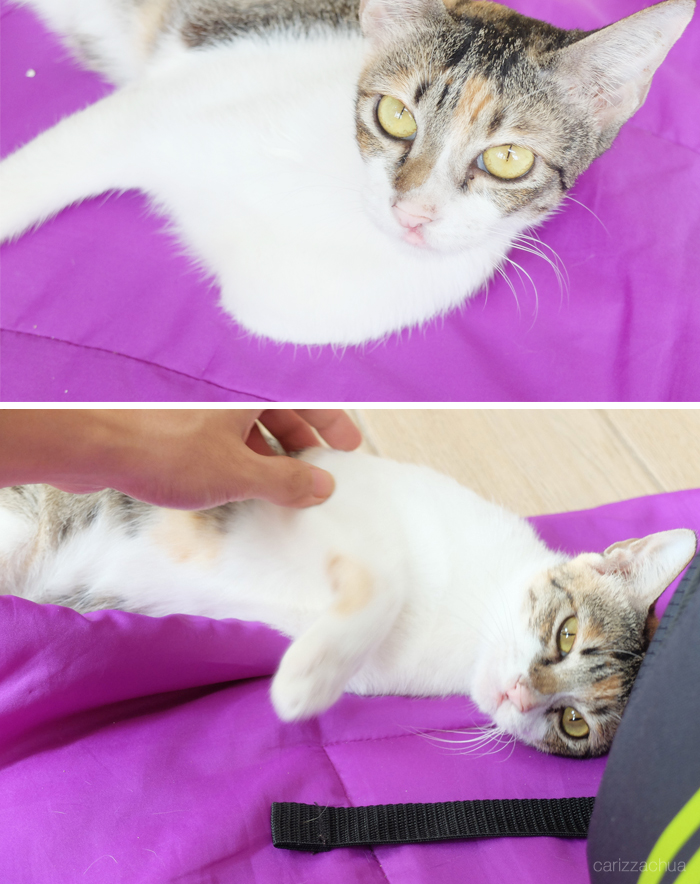 There were no chairs around. You have to sit on the floor and socialize with the furballs while carefully guarding your food placed on the low tables. No, they won't eat it but cats love destroying things around. Your multitasking skills will definitely be challenged.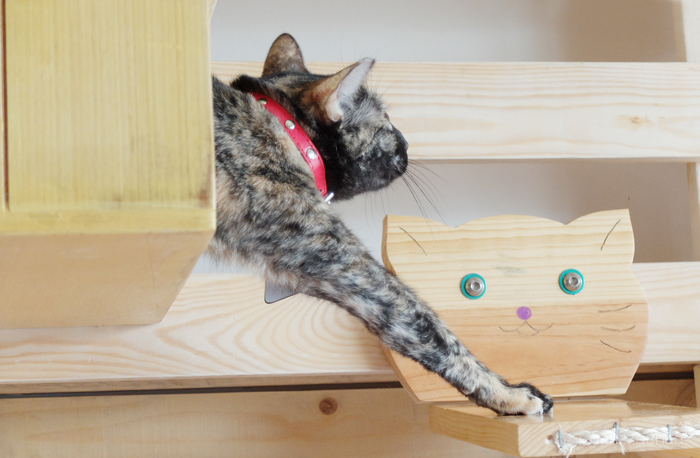 Lady Sasha stretched out from the cat house.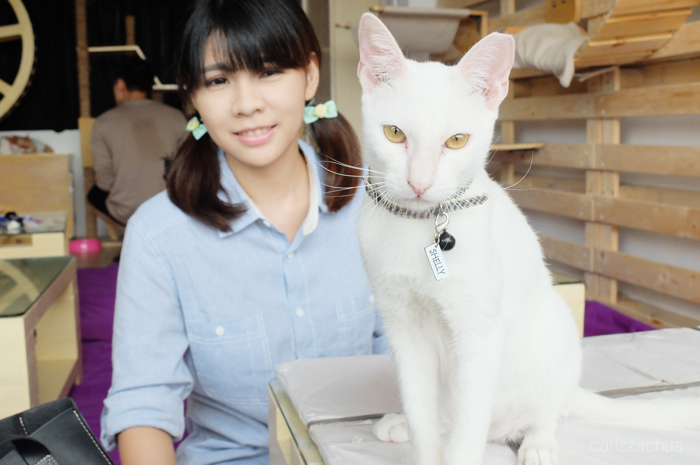 It was my first time to see Shelly at the cafe. Such a sweet and playful baby!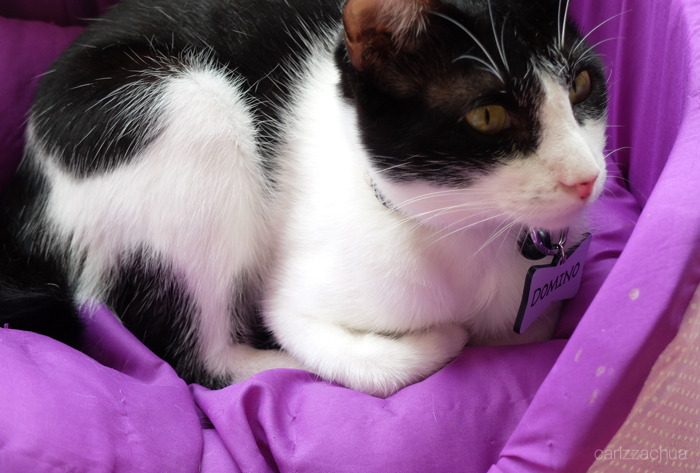 Every time we visit the cafe, Domino is in this bed. Probably his territory!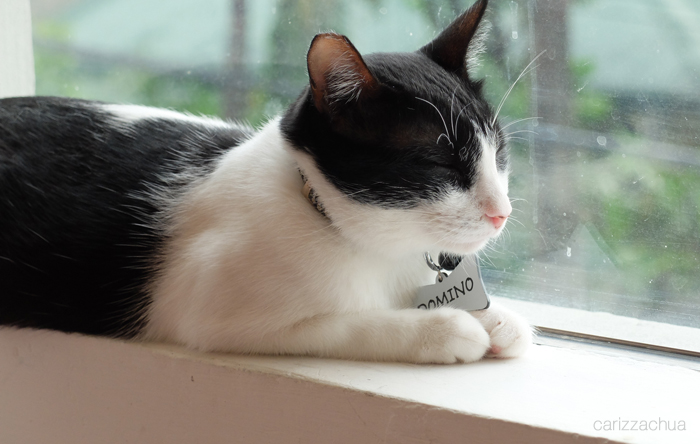 He eventually moved on the window side!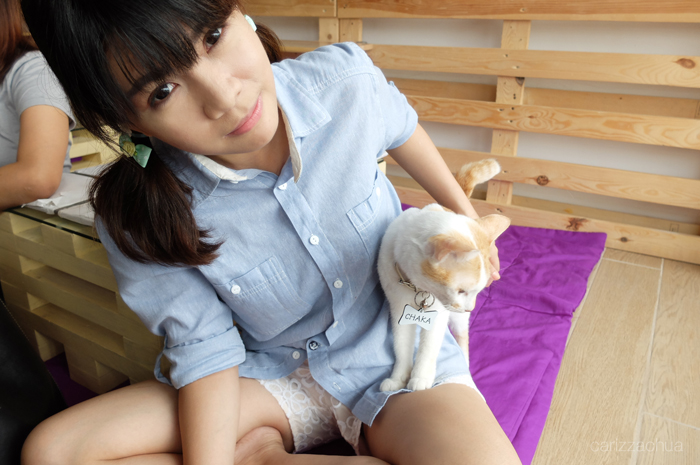 Another favorite Chaka who responds to his name when called!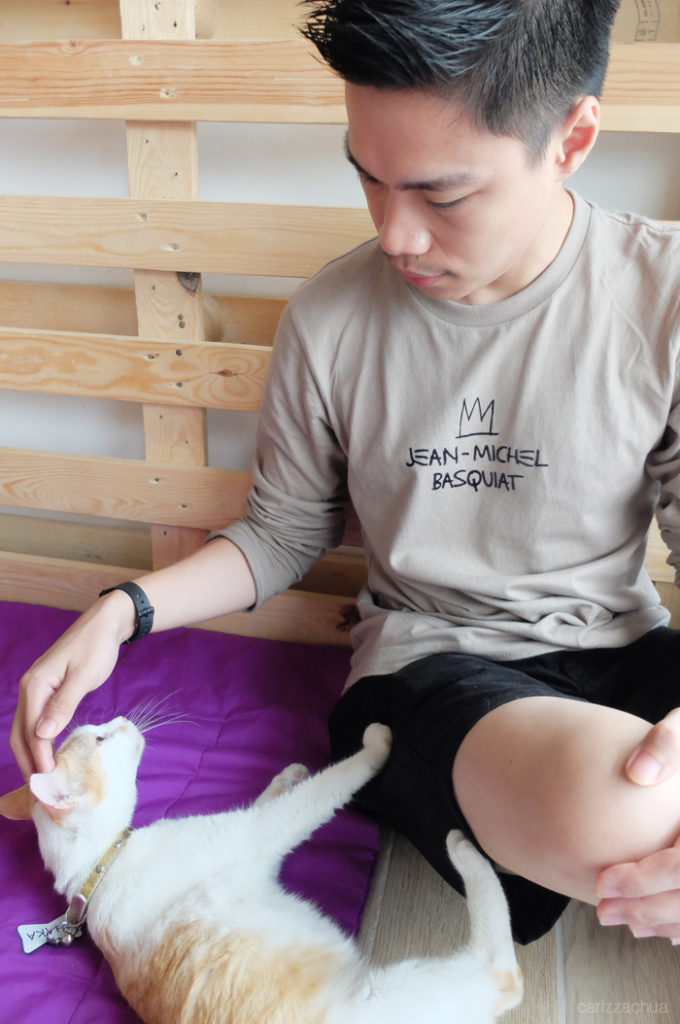 We have three rescued puspins at home but it's always nice to meet new puspin friends in different places. We love playing with cats and I think my sister enjoyed playtime with the naughty Mr. Nacho a lot.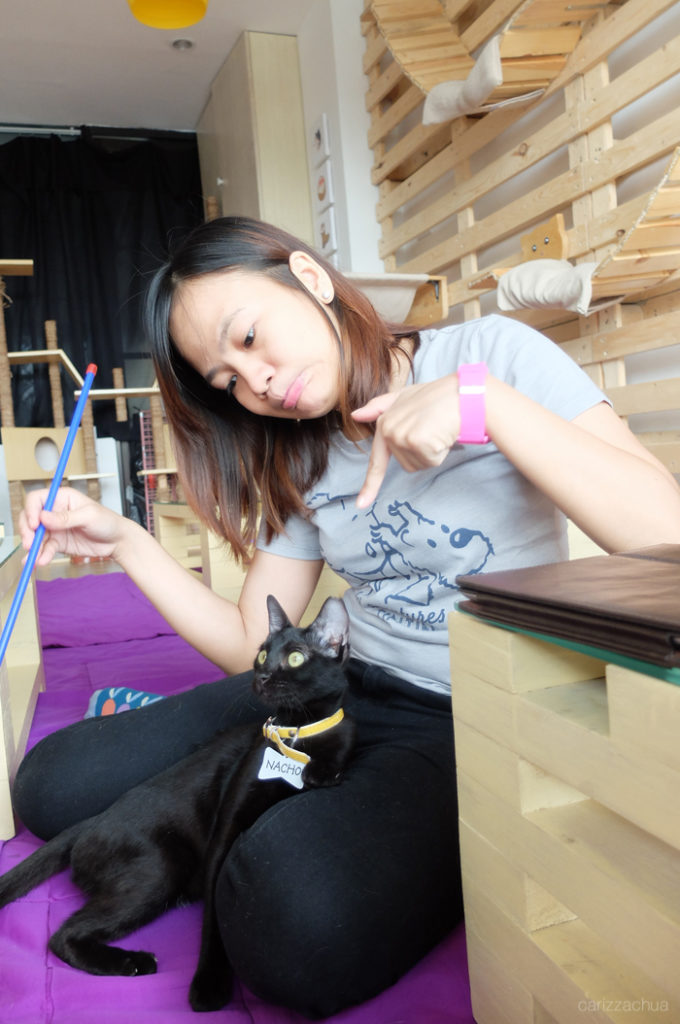 Until Nacho bit her foot! Hahahaha!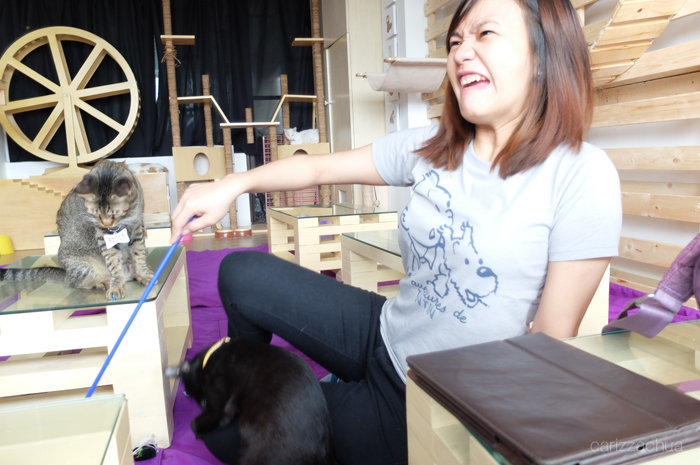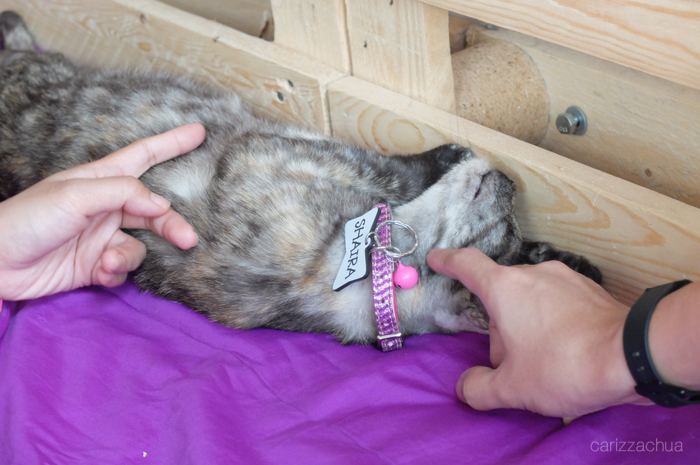 It's pamper time with Shaira
We never saw Trigger play with hoomans so this one is one precious moment indeed! He usually likes to keep to himself and just curl up beside the wooden wheel. He was probably abused when he was younger so he doesn't like hoomans that much. I think this cafe would help him trust humans once again.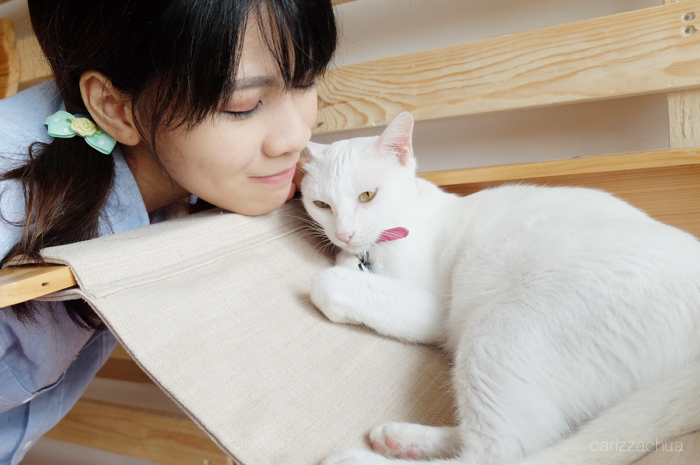 Mama Cat is such a sweet baby. Reminds me of my white puspin named Paopao.
I think Oreo loves this bed too!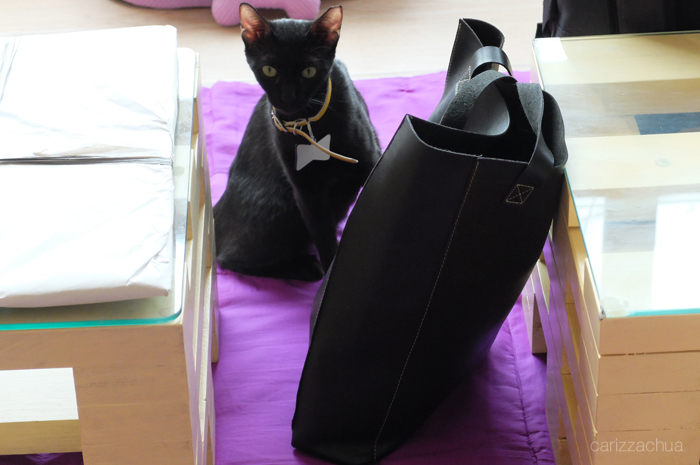 Nacho and my bag
All of these cats are already spayed and neutered. The place also teaches people the benefits of a spayed/neutered cat and how to appreciate Puspins more. To everyone reading this, please love our local cats. Adopt don't shop. This is the main reason why I support this cafe. It's not just all about giving affectionate purr but also a chance for the Puspins to find their forever homes.
Best time to visit: 12nn soon as they open to avoid the crowd or at night since most cats are nocturnal and more active at night
If you want to become a cat slave for awhile or adopt a furry friend, please do visit
Cat Cafe Manila
2/F 189 Maginhawa cor Makadios Sts, Sikatuna Village, Quezon City
Tues-Sun 12pm-10pm
You might also like