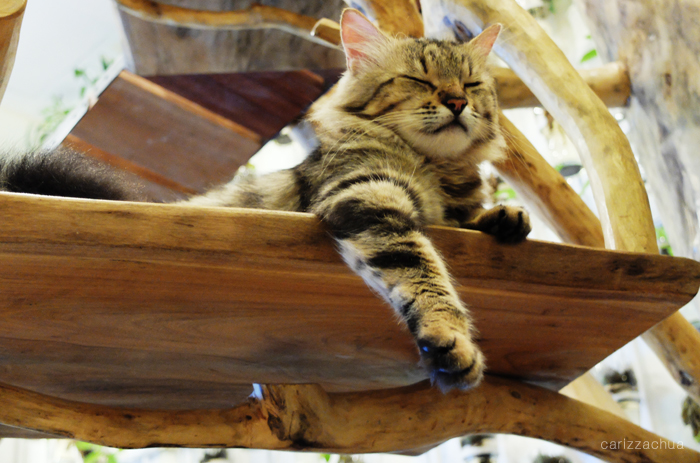 I am becoming more and more feline this year and the cat lady in me said that I had to celebrate with cats. So we went to Bengal Brew cat cafe few week ago for 1/3 of my birthday celebration!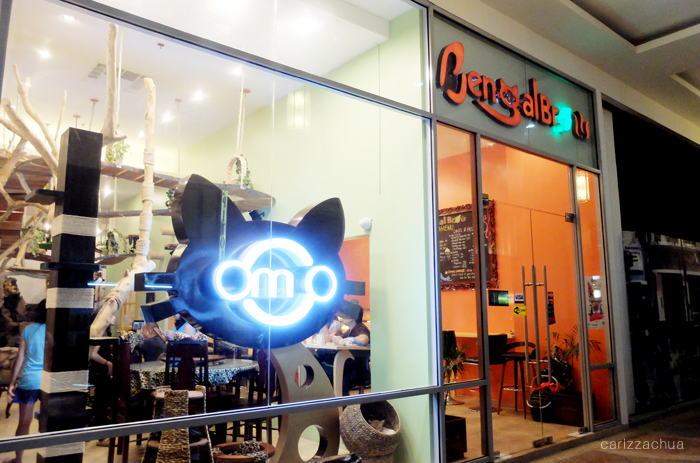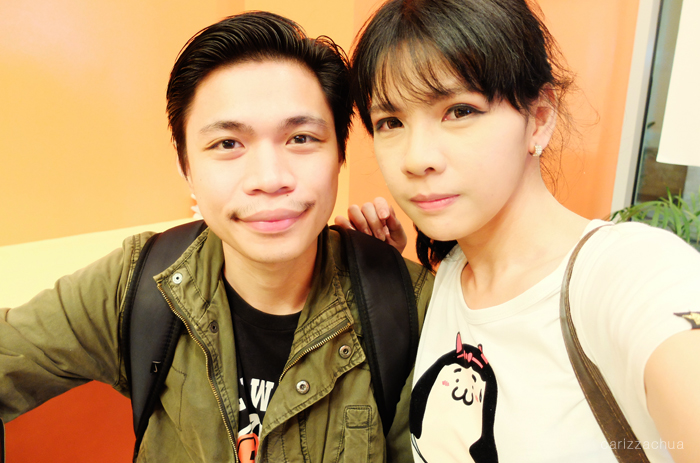 It's the first cat cafe in the world to have Bengal cats in an indoor topical rainforest themed cafe. It is actually owned by director, Don Michael Perez, who is known for his famous work, Mulawin. Upon entering the store, you'll be tempted to order right away from their very interesting menu. Take a look: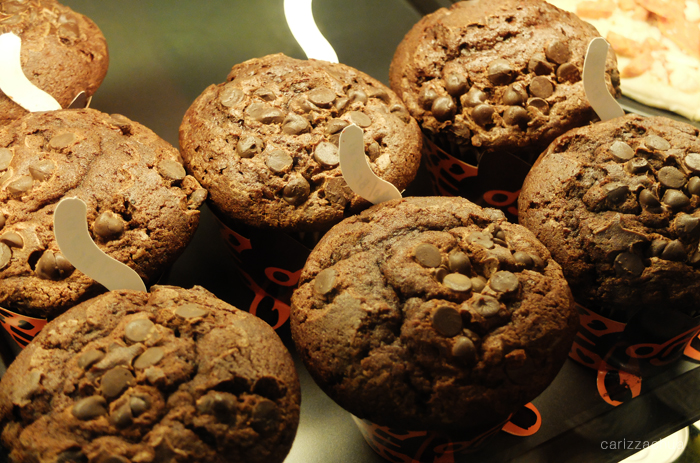 The cafe serves hot and iced drinks as well as cupcakes, cakes, pasta and pizza. You may eat in the cafe area or ask the staff to bring your food inside where the cats are. Before entering the cat area, you will be required to wear their cute cat slippers.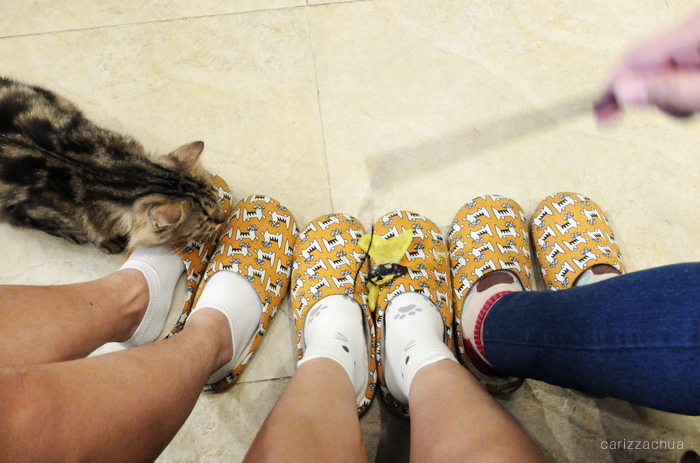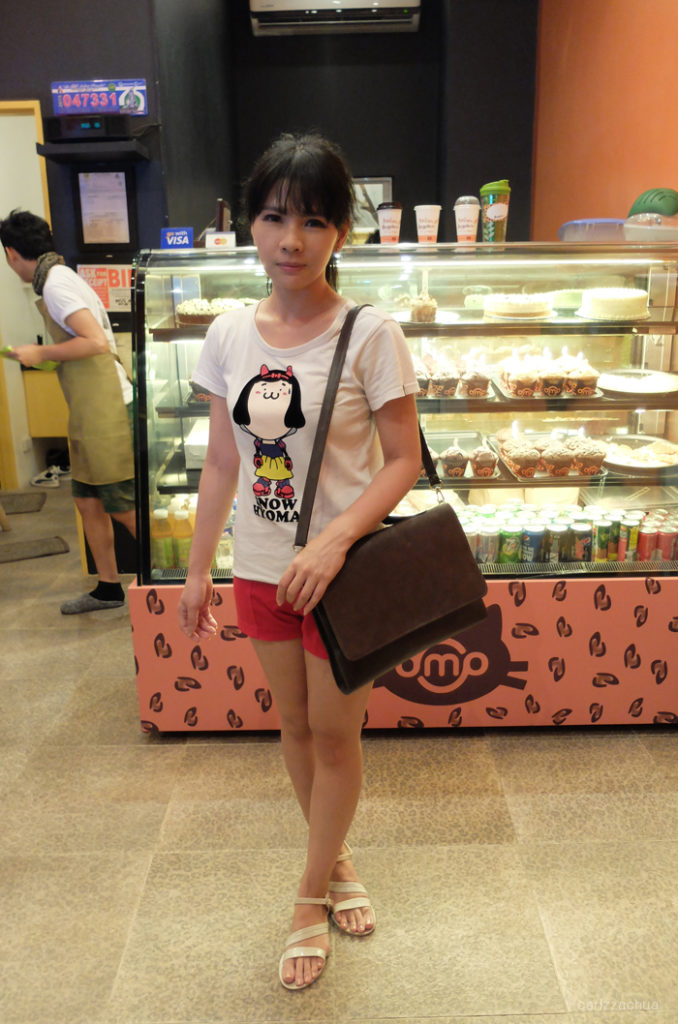 Me at the cafe area
Snow Hyoma Shirt from HYOMA // Shorts from Forever 21 // Messenger bag from Korea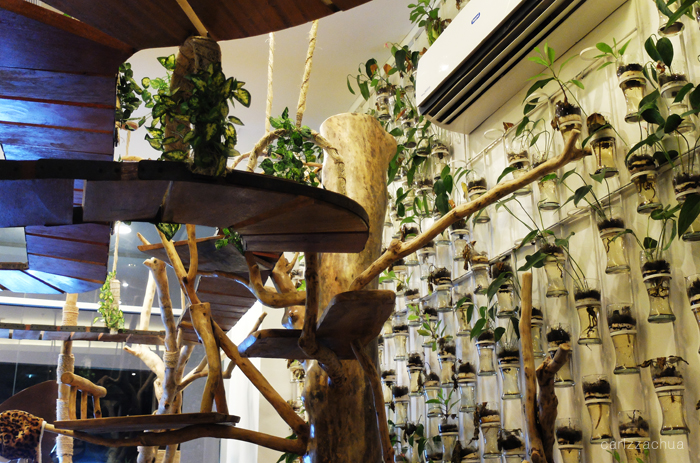 Their themed interior and facilities are quite impressive! No wonder why the cats here love roaming around. The cafe is complete with cat needs, beddings and toys. They have a spacious cattery at the back too.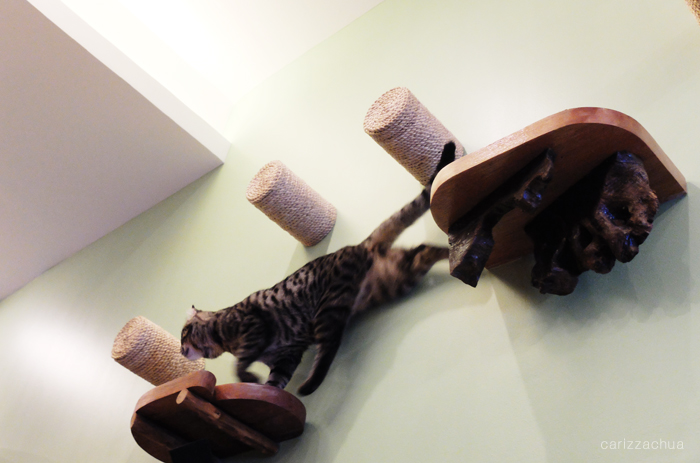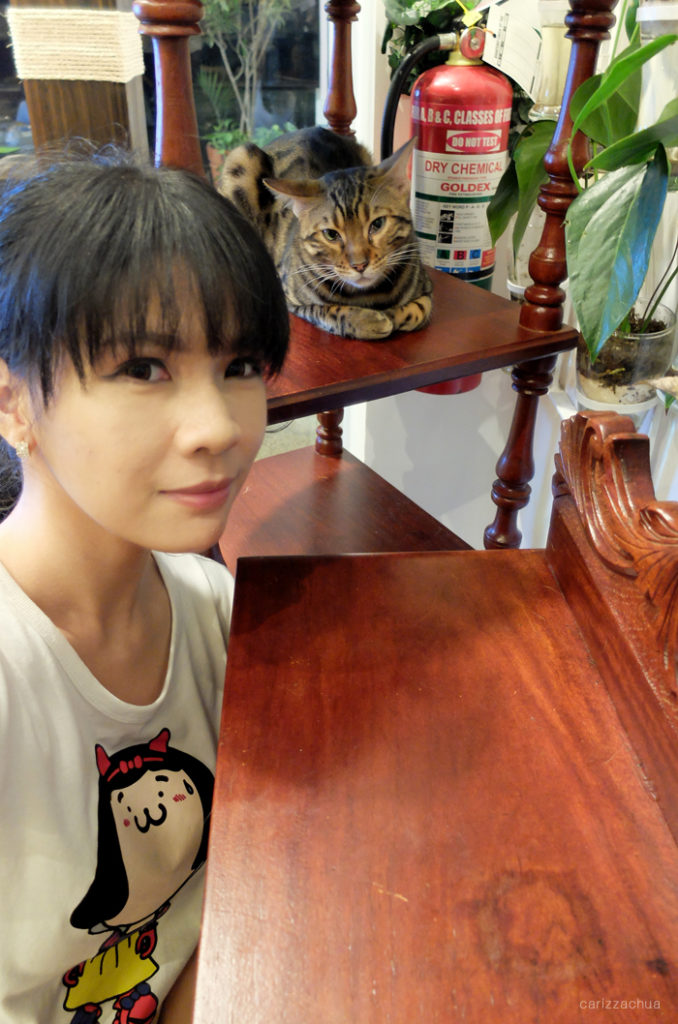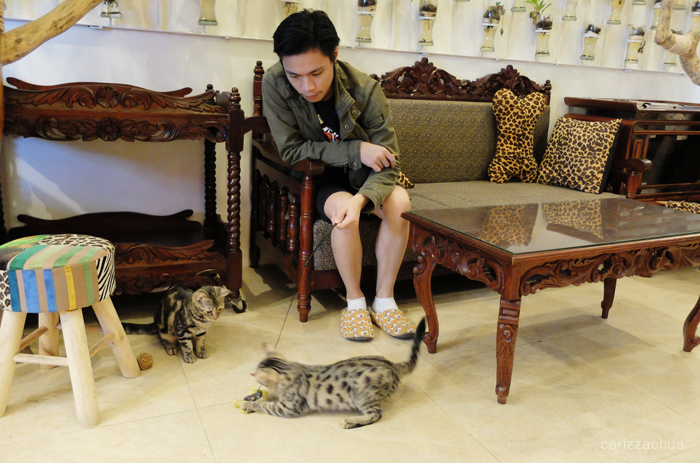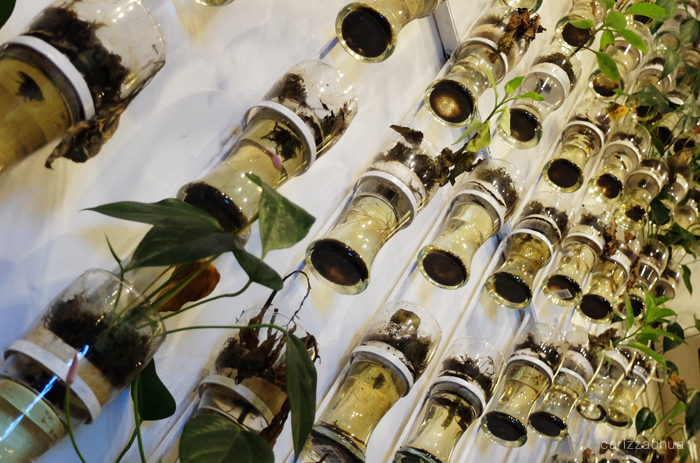 Bengal cats are character felines with distinctive coats and patterns. Aren't they suppose to be wild and free? Well, for me, they better stay with a 'slave' than roam in the wild. It's a cruel world out there. Bengal cats might not be as sweet as the other breeds but they are also domestic cats.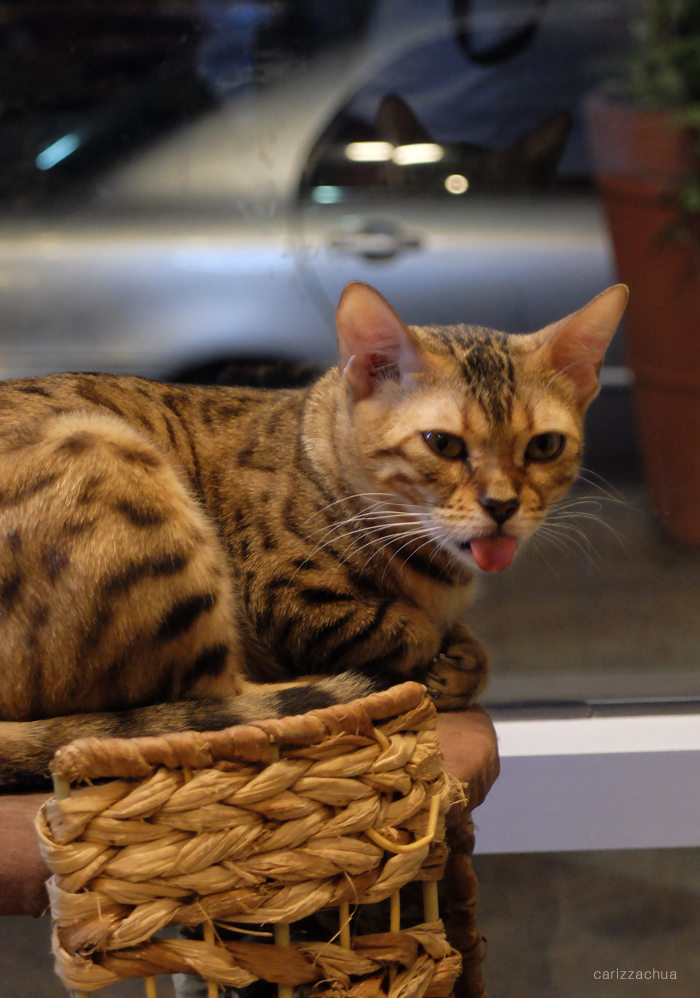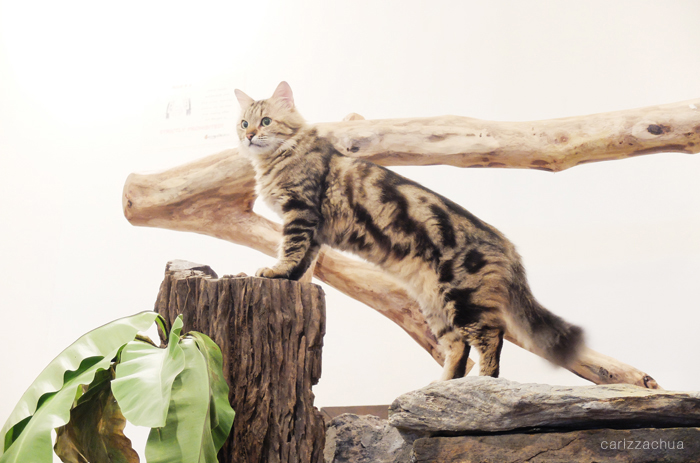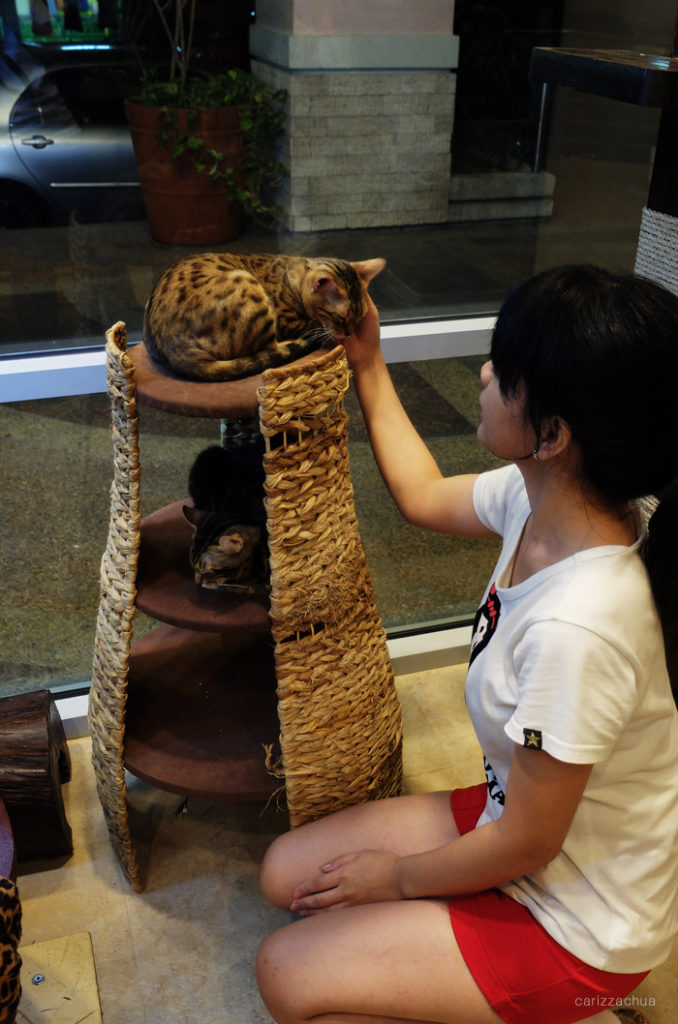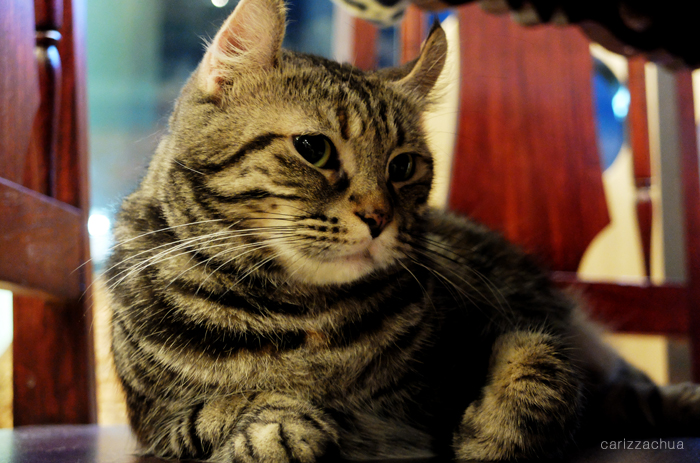 They serve drinks in tumblers and I like the idea to avoid spilling and contamination. Saves plastics too! In my opinion, the Bengal Frappe like like a mix of raspberry and chocolate but too sweet, Caramel Frappe is good and I certainly recommend Matcha Frappe!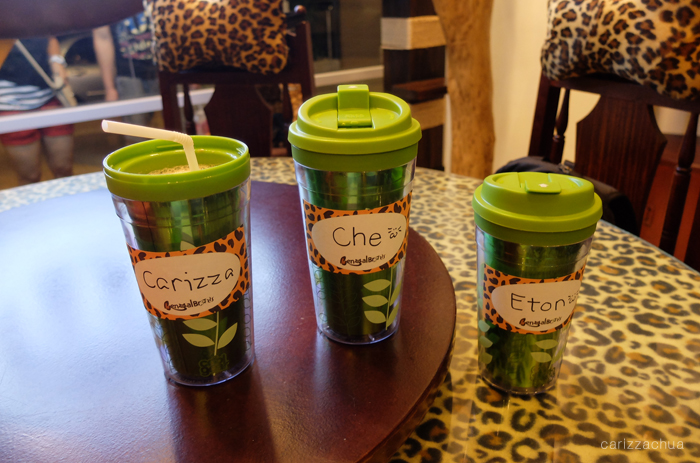 For the food, we ordered Pinoy Style Pasta. It's nice to know that they serve their food with plastic covers so that the cats won't be able to outsmart the humans while they are busy selfie-ing with the other cats. Haha!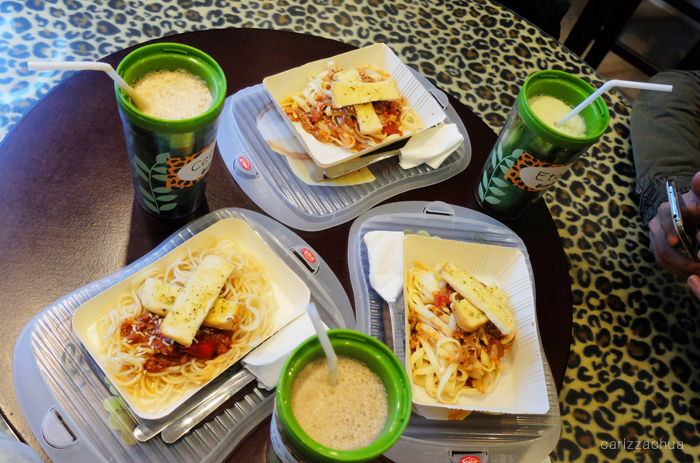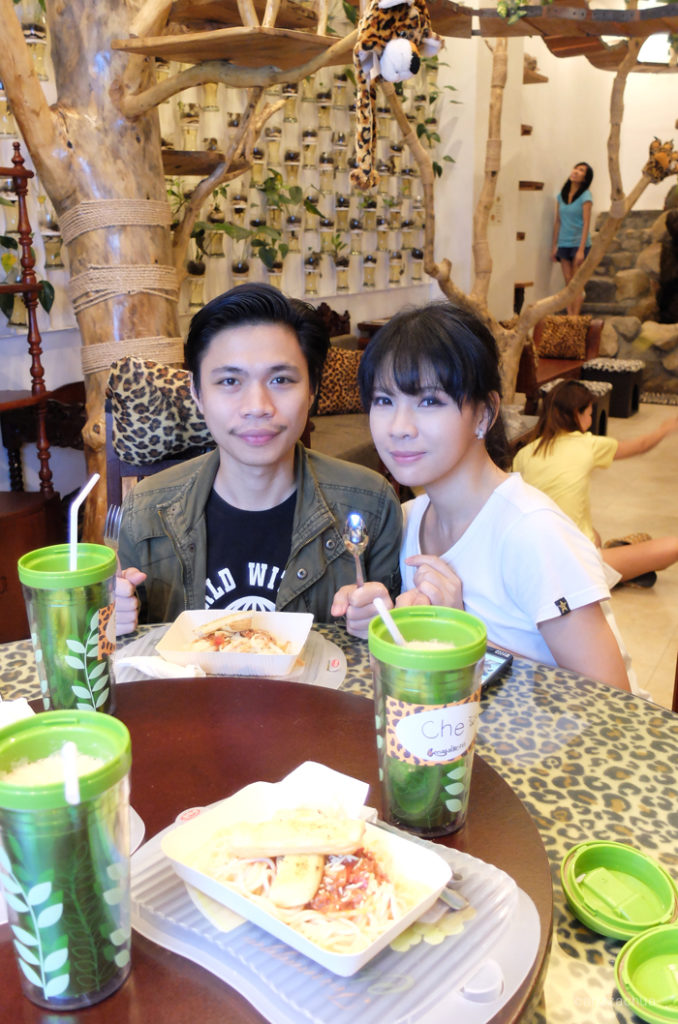 During meal, sister bought a slice of cake for me! Yay!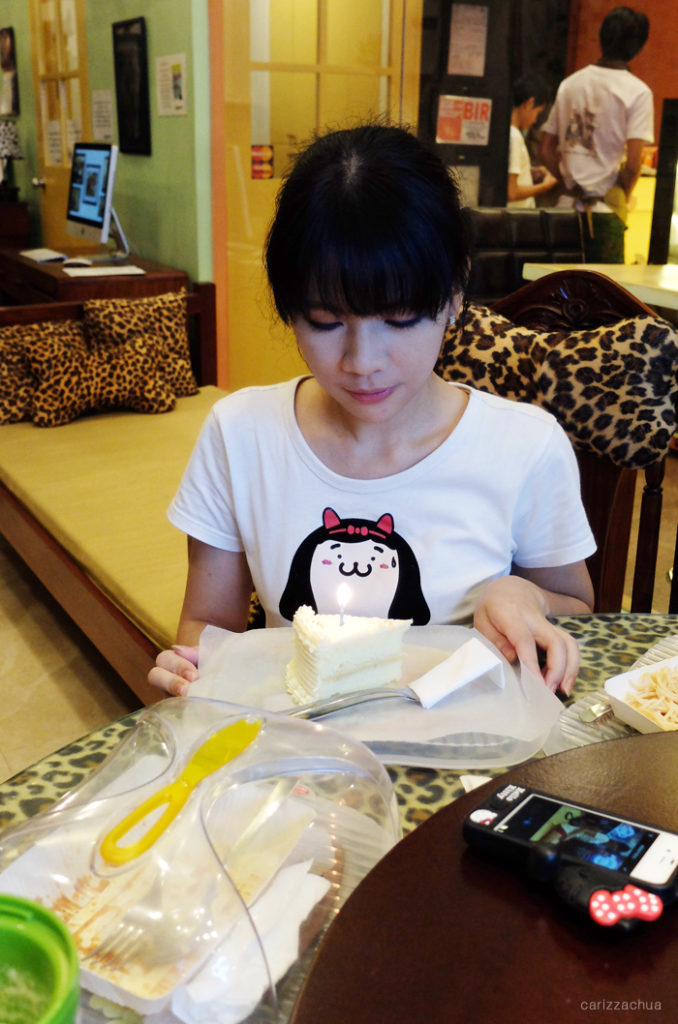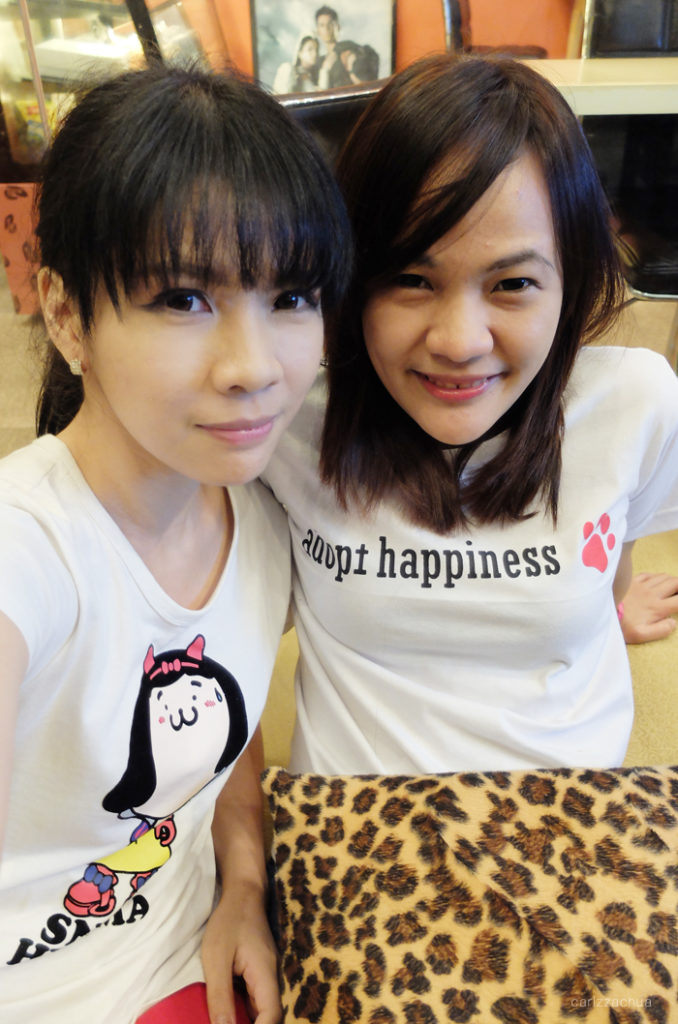 As soon as the Bengal Brew team learned about it, they served another slice of cake for me. Thank you Bengal Brew! Really appreciate it! 🙂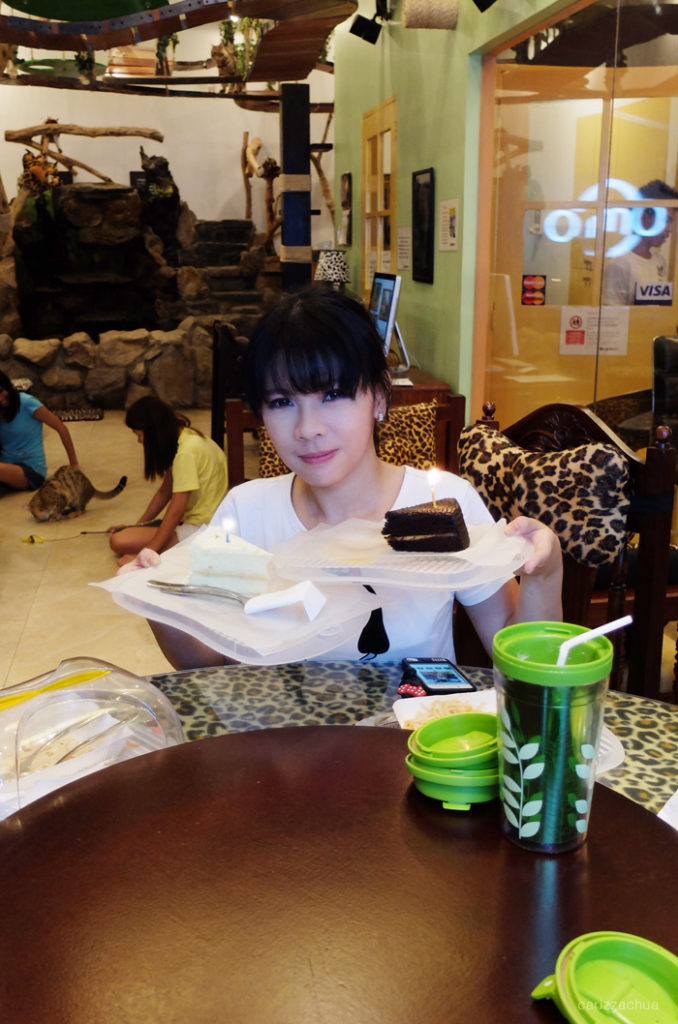 Bengal cats look a bit aloof but they love to climb and play.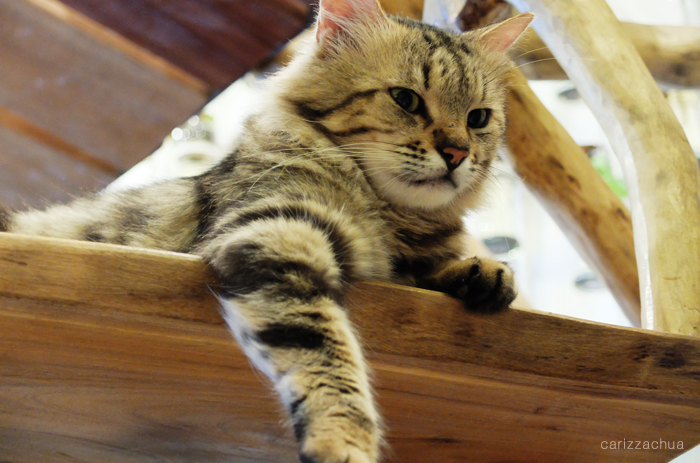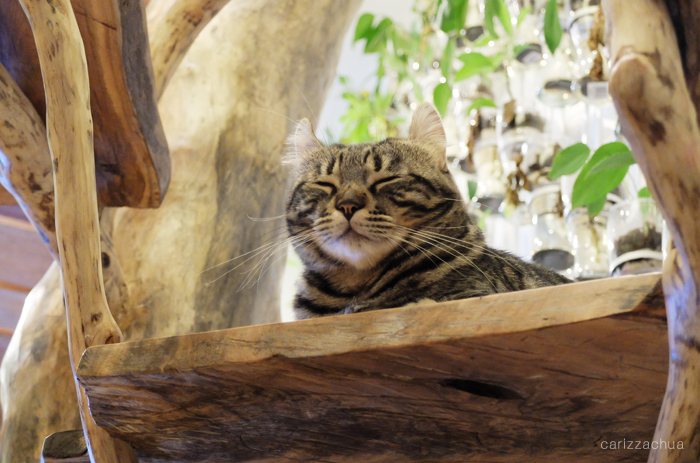 Guests could also climb up the rocky waterfalls/pond area and feed them with raw chicken!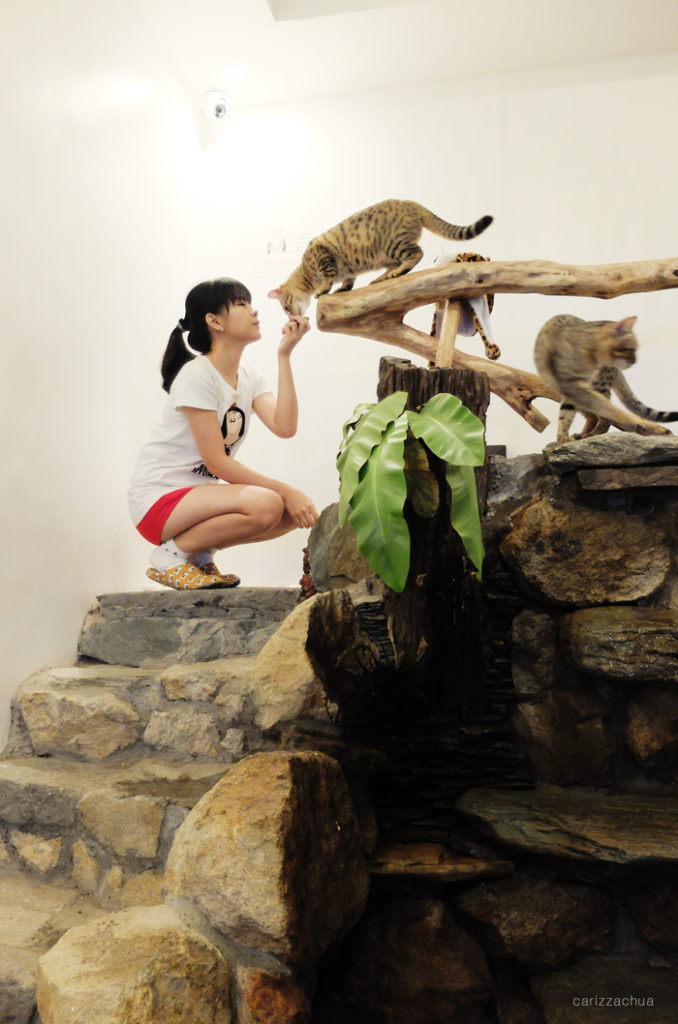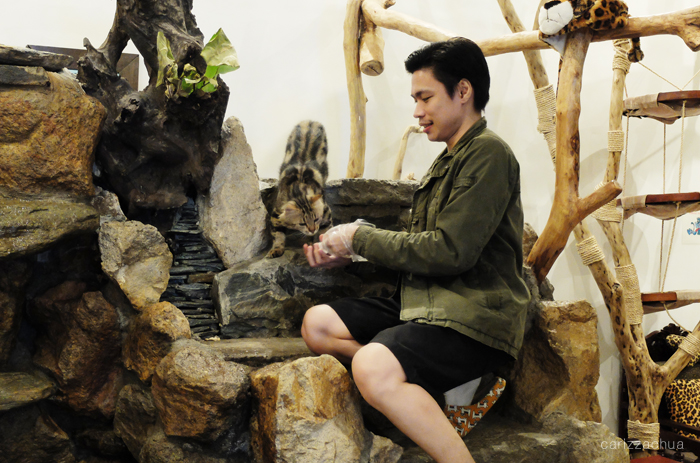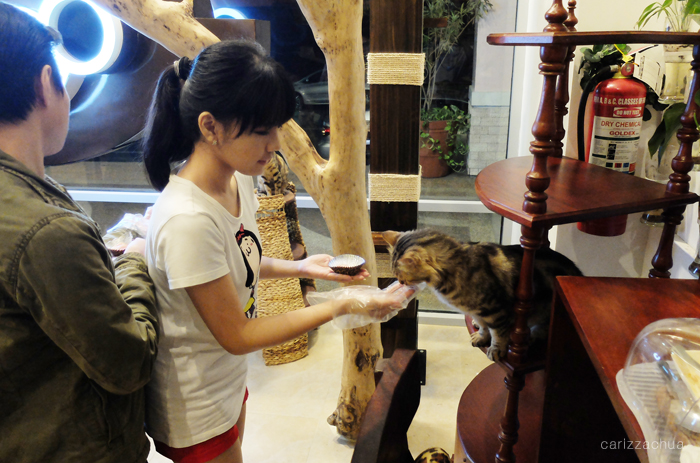 With a good smelling raw food in your hand, all cats become friendly and sweet. XD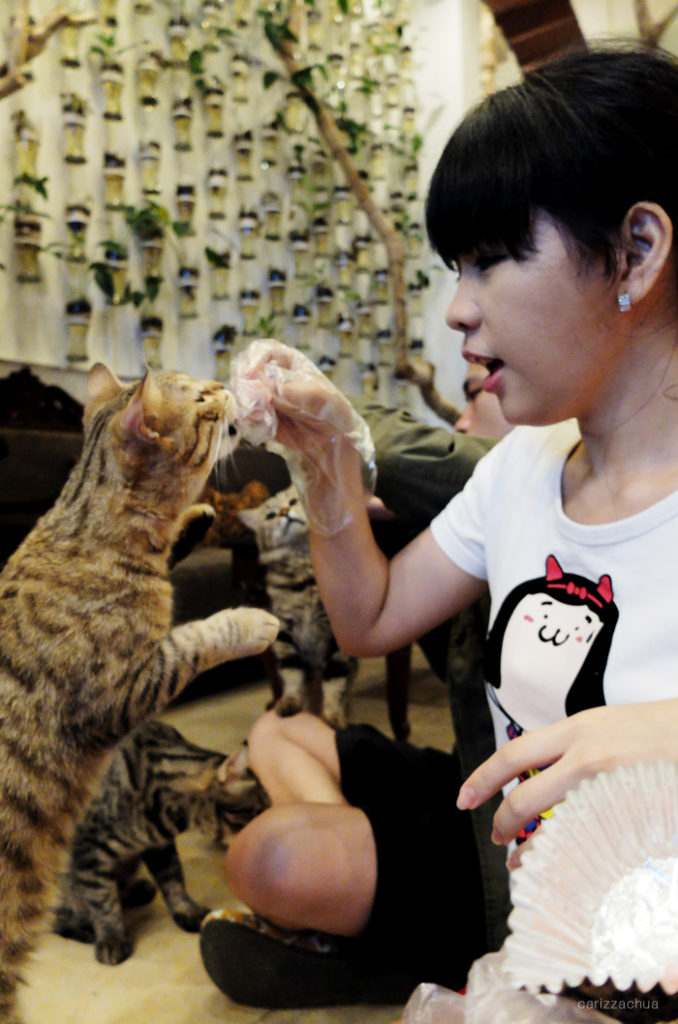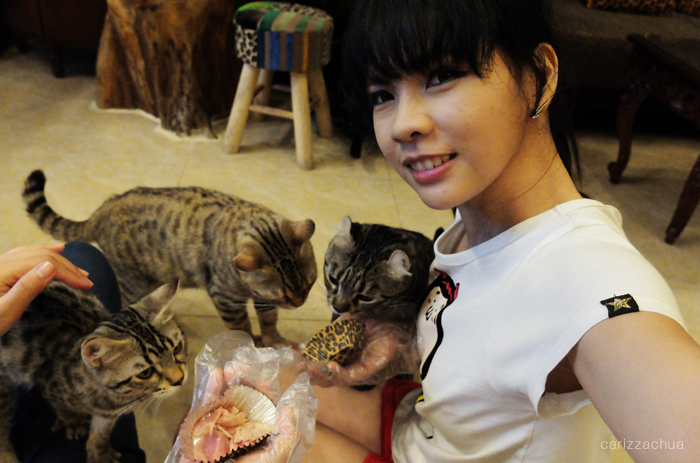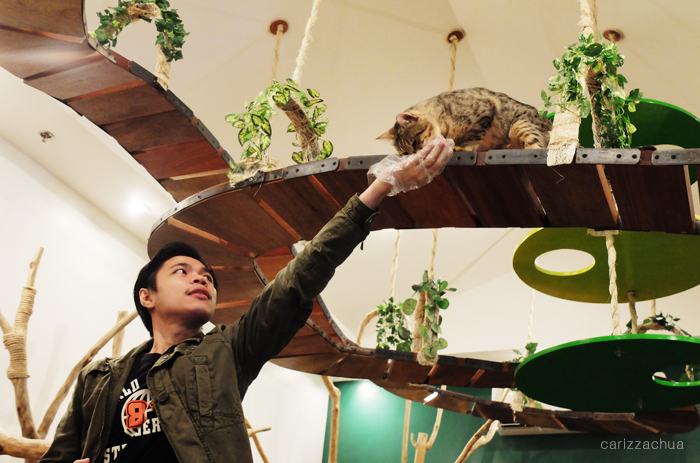 This place is really nice! You get to learn a lot about the behavior of Bengal cats, interact with them, play with them, however, it would have been perfect if Bengal Cafe could also help homeless cats here in the Philippines. With so many abandoned puspins here in the country, showing off purebred cats only motivates people to BUY when in fact, ADOPTION is the best option.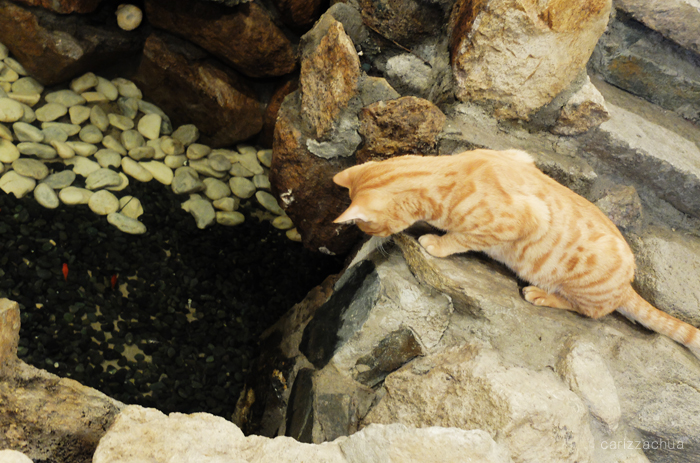 If you look on the other side, Bengal Brew shows to present cat owners how they properly take care of cats and teach guests the right food to feed them. To be honest, when I first enter a cat cafe in Korea, all I have in mind is "I want my cat to be as good and healthy as that."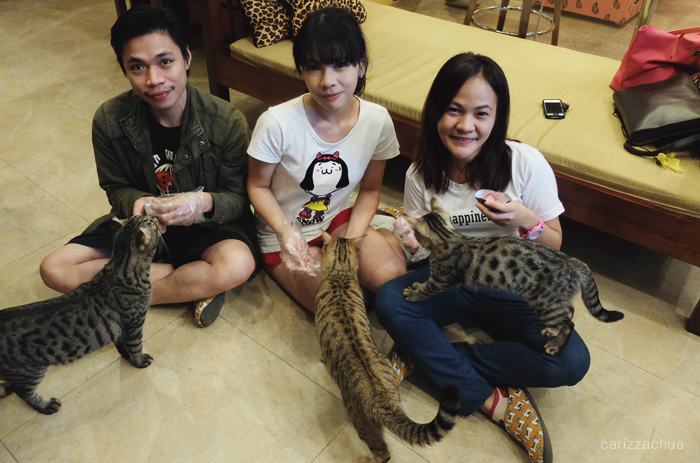 Will I go back here at Bengal Brew? Definitely. It's just a walking distance from our home and if I need to take a break, I'd probably choose to stay here rather than in Starbucks. It's a good place to relax and unwind with cats. It's also a good place for those who likes cats but doesn't feel responsible enough yet to take care of one. Of course, I'll also support the other cat cafes especially those who have puspins for adoption with them such as
Cat Cafe Manila
and
Uchi No Neko
.
Bengal Brew is located at Manhattan Parkview, Cubao Quezon City. Open from 12nn to 8pm. Entrance fee is Php 350 (as of October 10, 2015), inclusive of 1 drink and 1 food of your choice plus food for the cats!